Hindsight 2020
Trish Andersen
November 17, 2022 – January 19, 2023
The fabric of a life isn't smooth and uniform. It's shadowy and it's bright and every in- between; substantial and steely in patches, while unfinished and threadbare in others. Hung up, it acts as evidence of the topography we've tread- seascapes and sunny fields, hills that took nothing or everything to climb, cliffs and craggs in blustery winds, scorching deserts, or quicksand we didn't know we could get out of. Our experiences- whether gentle or pointed, when pieced together provide us a map of our own resilience. Each stitch a moment in time, appearing different depending on your distance from it.
About Trish
As an interdisciplinary artist born and raised in Dalton, Georgia, "The Carpet Capital of the World", Trish Andersen's initial attraction to the process of tufting was a means to reconnect with and explore her roots. Years after attending the Savannah College of Art and Design and moving on to live and work in Brooklyn, New York, she began using the medium as an examination of the notion that a thing or a way of being can run in our blood; that perhaps by observing the characteristics of personal origin and establishing commonality and community around those that reverberate in the present, one may be able to begin unearthing the elusive authentic self.
Enter the drips. Combining fibers gathered from field, sheep and those developed on a factory floor, Andersen proves that there is always room for both the vibrant and the muted, the sleek and the wild, cut and looped, soft and cumulus, the dense and the coarse; the unexpected and varied tactile quality of her pieces allow the eyes to open to an emotional one. Her work speaks to the truth that whether they are temporal, cultural, geographical, or interpersonal, boundaries inevitably bleed, and the results are often quite stunning.
Trish lives in Savannah, Georgia, and takes projects worldwide.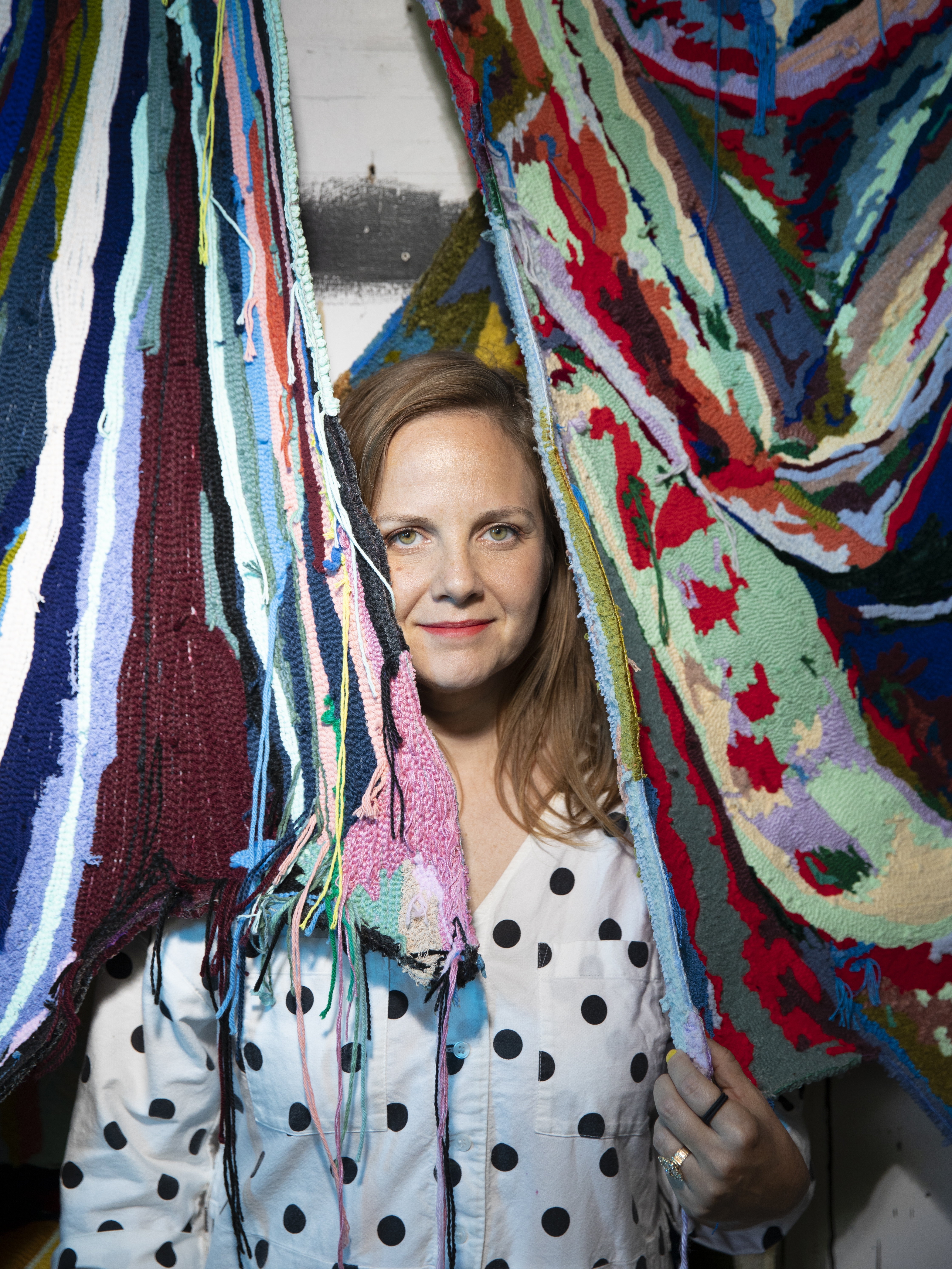 Photo by Adam Kuehl Photography